Good-for-you, feel-good beverages
At Zentopia, we believe that a great CBD product should taste as good as it makes you feel. That's why we pack all the natural health-enhancing benefits of 50mg of CBD into a guilt-free drink that has both flavor and function. So go ahead, grab a can of our stress-busting sparkling waters or energy-focusing teas and start feeling good from the inside out.
Get the goods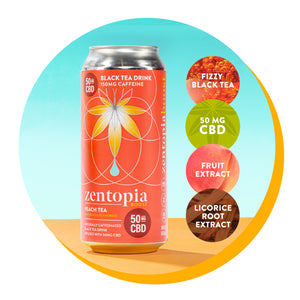 Boost up!
Zentopia Boost if a naturally caffeinated tea that helps you conquer the day with a jolt of focused energy. With 50mg of CBD and 150mg of caffeine, it's a great booster or recovery fuel for anyone with an active body, giving you all the perks of coffee without the crash.
---
50mg CBD | 150mg Caffeine | No Sugar | No THC | Gluten Free | All Natural
---
Shop Boost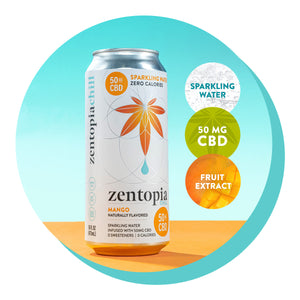 Chill out.
Zentopia Chill is an all-natural sparkling beverage to help ease you into stress-free relaxation. With 50mg of CBD and low to no calories, it's a guilt-free and delicious way to help you unwind, calm your mind and feel your best.
---
50mg CBD | Low to No Calorie | Caffeine-Free | No THC | Gluten Free | All Natural
---
Shop Chill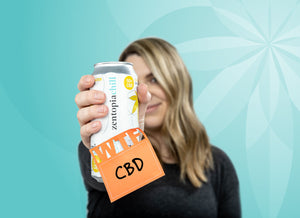 What is CBD?
CBD stands for cannabidiol, the most well-known and influential non-psychoactive compounds found naturally in marijuana or hemp. However, unlike THC (Tetrahydrocannabinol), CBD has no intoxicating effects and will not get you high.
Zentopia products are formulated with hemp-derived CBD isolate and DO NOT contain THC. And worry not, our products won't cause a failed drug test.
See our lab results
How Does CBD Work?
Your body is home to what is called the endocannabinoid system (ECS), a group of receptors in your brain and nervous system that works to maintain biological harmony in response to outside stressors.
The ECS works with cannabinoids made by your body and those made by plants – such as CBD!
When your body is out of whack, cannabinoids such as CBD work to stimulate positive changes that help regulate mood, inflammatory response, digestion, sleep and many other biological functions.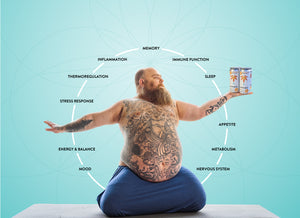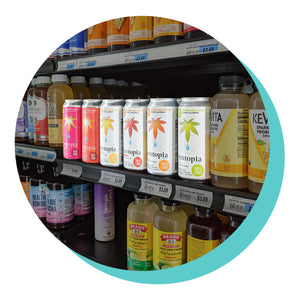 Buy Zentopia In-Store
Don't want to commit to ordering a pack of Zentopia online but want to give it a try? You can pick up single serve cans at one of our many retail locations in Oregon, Washington, Montana, Idaho, Colorado, Alaska and California. Find Zentopia near you on our store locator.
Find a Store