Peach Boost CBD Caffeinated Black Tea
Regular price
$23.99
Sale price
$23.99
(Free Shipping)

---
50mg CBD | 150mg Caffeine |  Zero Sugar  |  10 Calories |  Zero THC  |  Gluten-Free  |  All-Natural 
---
Boost your zendurance and increase your focus with sugar-free, specialty sourced black tea intermingled with ripe peach in a sublime bubbling sea of peachy CBD-infused tea. With 50mg of CBD and 150mg of natural caffeine, Zentopia Boost has all the perks of coffee without the jitters. 
Save 25% when you buy an economy pack of 24 or more cans!
Availability: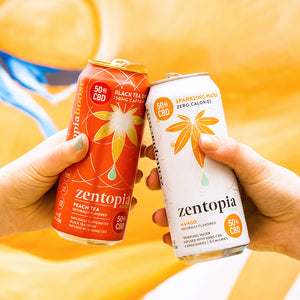 Why Zentopia?
Because, our thirsty friend, you deserve to enjoy the powers of CBD delivered in delicious, guilt-free sparkling waters and caffeine-packed teas that not only taste good but make you feel good for drinking them. 
Learn More